Baigan Bharta (Mashed Eggplant)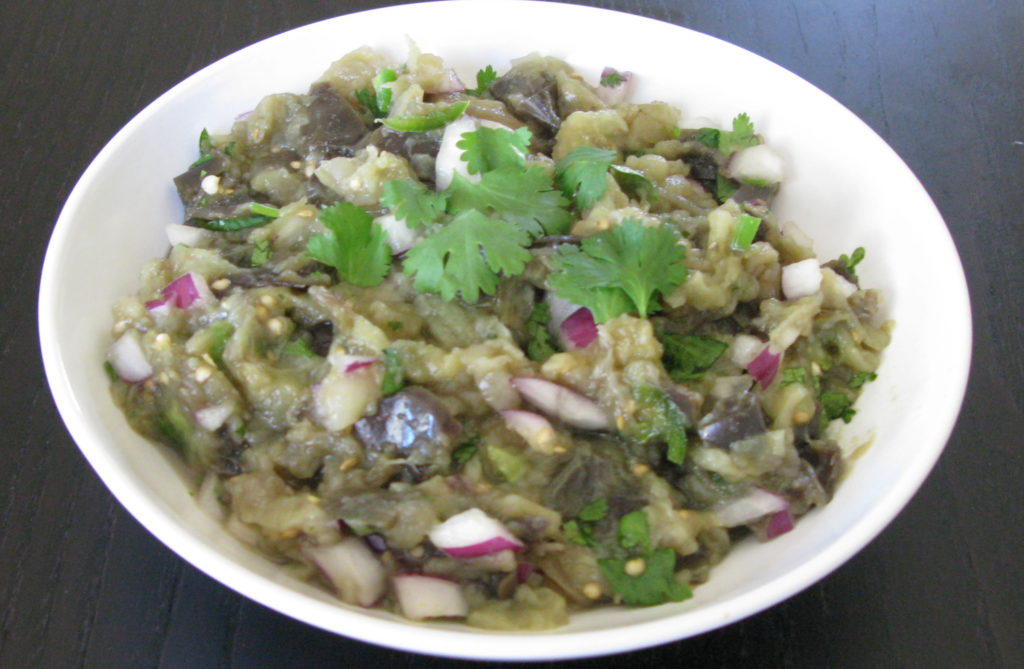 Baigun Bharta is a traditional and very popular dish made in South Asia. You'll typically find it on the menu at Indian restaurants and I guess the best way I can describe it, is that it is similar in texture to Middle Eastern Baba Ghanoush. (If you don't have a Ninja Foodi, don't fret. You can still make this amazing dish! Click here to see how).


Ingredients:
1 large eggplant (aka aubergine)
1/4 red onion
2-3 thai green chillies (depending on how hot you like it)
1 tablespoon Mustard oil
A handful of Fresh Coriander (cilantro)
Salt to taste

How to:
Cut the eggplant/aubergine into cubes and soak in water for about 10 -15 minutes in a large bowl.
Wash and drain the eggplant and place in the Ninja Foodi Air Crisp basket. Pour 1 cup of water into the Ninja pot.
Assemble the pressure cooking lid, turn the valve to Seal, and set the pressure to 10 mins on High. Hit start. Now you can prepare the other ingredients.

Thinly slice or dice the onion and toss into a large mixing bowl. Add all other ingredients above and mix well.

Once the pressure cooking is done, release the valve by turning it to Vent. Once all the pressure has been released, carefully remove the lid.

Place eggplant in the bowl with your mixture in it and mash well whilst mixing in all the flavors. Add salt and mustard oil to taste as needed.

Recommendations: This dish is served cold and can be eaten with rice or chapatti. Also goes really well with daal (lentil curry).

Recipe & image by Sabina Huq