Smoked Salmon Salad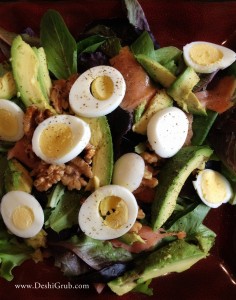 Click image to enlarge
Ingredients: (serves 2)
1 small packet of wild smoked salmon
3 hard boiled eggs
1 large avocado
10 walnuts
1 packet of mixed greens of your choice
1 teaspoon of coconut oil
sprinkle of pepper
For dressing: 1 lemon, 1 heaped tablespoon of mayonnaise, 1/2 teaspoon of light soy sauce
How to:
1.  Prepare the walnuts by heating 1 tsp of coconut oil in a pan and heating the walnuts up for just one minute until they turn slightly brown. Be careful not to burn them.
2.  Prepare the salad greens on the plate.
3.  Slice the avocado into thick strips
4.  Slice the egg using an egg slicer
5.  Add avocado, smoked salmon and eggs to the greens and sprinkle with walnuts.
6.  To make the dressing: in a bowl add 1 tbsp of mayonnaise, squeeze 1 whole lemon and add 1/2 tsp of light soy sauce. Mix well using a spoon or whisk.
7.  Serve dressing on the side or drizzle a little over the salad. Enjoy!
Recipe & image by Sabina Huq