Salmon & Goat Cheese Salad
A very simple and satisfying dish for either lunch or dinner!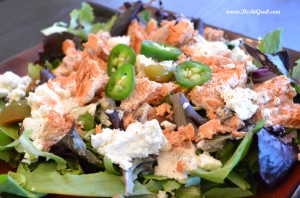 Click on image to enlarge
Ingredients: (Serves 1)
1 tin of canned salmon
1 oz goat cheese
4 olives
2 cherry tomatoes (cut in halves)
A handful of leafy greens of your choice
A couple of fresh jalapeno slices
A dash of ground pepper
For the Dressing: 1/2 freshly squeezed lemon, 1 tablespoon mayonnaise, 1/2 tsp of soy sauce
How to:
Spread the leafy greens onto a serving plate
Add the canned salmon
Add the olives and cherry tomatoes cut in halves
Add the goat cheese (you can use crumbled if you wish)
To make the dressing – simply mix all dressing ingredients listed above in a cup or small bowl and pour over the salad.
Add pepper to taste  and some jalapeno slices for decoration (or to taste).
So easy! Enjoy!!
Recipe & image by Sabina Huq