Jorge's Skinny Muffin
"The perfect energy boosting snack anytime after lunch!" – Jorge Cruise
A Brilliant Invention!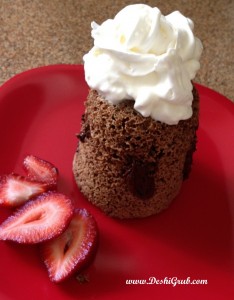 Click on image to enlarge
I made this treat not quite knowing what to expect.  After all, how can a skinny 'dessert' taste this good or even cook in just 50 seconds? Nervously watching as the 'cake' continued to rise, I was convinced I'd hear a loud bang and have to deal with cleaning up the splattering of mixture from the innards of the microwave. To my surprise – nothing of the sort happened and not only did Jorge's treat take only 50 seconds to make, it took even less to eat! For more about Jorge Cruise, visit his website http://www.jorgecruise.com/
Ingredients:
1/4 cup ground flax
1 tsp baking powder
2 tsp cinnamon powder
1 tsp coconut oil
1 egg
1 packet stevia
How to:
1. Mix all ingredients together in a coffee mug.
2. Microwave for 50 seconds and enjoy.
Recommendations:  I served it with low sugar whipped cream, 1 strawberry, and 2 pieces of melted dark chocolate.
Recipe by Jorge Cruise / Image by Sabina Huq