Grilled Chicken Skewers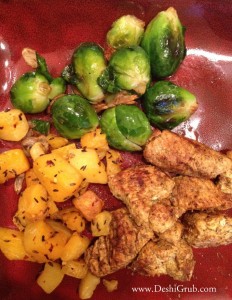 Click on image to enlarge
For this dish, if cooking indoors you will need a skillet or grill, if outdoors, use the BBQ!
Ingredients: (serves 2)
1 piece of chicken breast cut into 1 inch thick cubes
Olive oil cooking spray
For the marinade: Juice of 1 freshly squeezed lemon, 1/2 tsp salt, 1/2 tsp cumin powder, 1/2 tsp of paprika, 1/2 tsp of coriander powder, 1 tablespoon of BBQ sauce of your choice.
How to:
1. Wash and cut the chicken and strain water out using a strainer.
2. In a mixing bowl, add the freshly squeezed lemon, spices, salt,a nd BBQ sauce as indicated above.
3. Add the chicken and marinate in fridge (in an air-tight container) for a minimum of 1 hour.
4. Once marinated, heat up the skillet (or other method of cooking of your choice) and prepare the skewers by placing the chicken on the skewers sideways so that they cook better.
5. Grill for 4-5 minutes on each side alternating between a high to medium heat so that the chicken is thoroughly cooked.
Recommendations:  I served this dish with butternut squash and brussels sprouts – both of which you can find on the 'carb-free' page of this site.
Recipe & image by Sabina Huq