Broccoli & Asparagus w/Roasted Almonds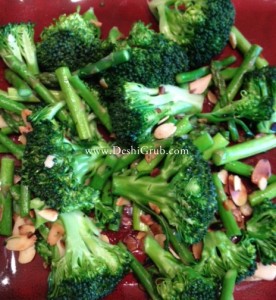 Click on image to enlarge
Ingredients: (Serves 2)
8-10 Asparagus Spears
Enough broccoli florets for 2
2 tablespoons of dry unsalted slivered almonds
pinch of salt
1 tsp coconut oil
How to:
1. Wash and prepare the vegetables by removing stems. Cut the asparagus into half – sideways!
2. In a pan, heat 1 tsp of coconut oil and add the slivered almonds. Fry until golden brown (approx. 1 minute). Be careful not to burn them as they burn very quickly.
3. Sprinkle some salt over the almonds.
4. Add the broccoli and asparagus and stir-fry for 2-3 mins. You want them veggies to remain crunchy. And that's it! Enjoy!
Recipe & Image by Sabina Huq