Grilled Chicken Bhuna
This is not only great tasting but perfect for a dinner party. I recommend using whole thigh and leg pieces for an impressive look but you can of course use breast meat if you prefer. Growing up, this was one of my favourite dishes. My mother used to make it all the time, except she used to pan fry the chicken in rather a lot of oil. Sorry mom!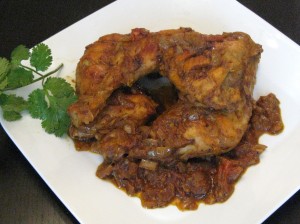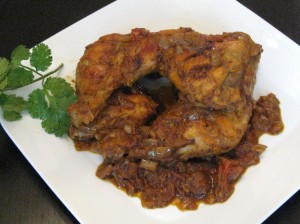 Click image to enlarge
Ingredients: Serves 4
4 whole thigh and leg pieces (make some extra pieces if you have hungry dinner guests)
3 medium sized onions
4 cloves garlic, crushed
1.5 inch piece fresh root ginger, peeled and crushed/grated
2 ripe tomatoes
Spices for the grilling: 1/2 tsp salt, 1/4 tsp turmeric, 1/4 tsp chilli powder, 1/4 tsp coriander powder, 1/4 tsp cumin powder, 1 tablespoon of oil
Spices for the bhuna massala: 1/2 tsp salt, 1/2 tsp turmeric, 1 level tsp chilli powder, 1 tsp coriander powder, 1 tsp cumin powder, 1/2 curry powder, 2 tbsp of oil
Fresh coriander leaves, finely chopped.
Cooking oil
How to:
1. Wash and clean the chicken and pat dry using paper towels.
2. In a bowl, add the spices indicated above for the grilling and add a touch of oil. Using  a skillet or grill, grill the chicken until 80% cooked. Ensure you brown the pieces well.
3. While the chicken is cooking, prepare the bhuna massala.  Finely dice up the onions and fry on high heat using a large non-stick pan. (The pan should be large enough to fit all the chicken pieces in together).
4. Add 1/2 tsp of salt (to help soften the onions) and then add the garlic and ginger as indicated above. Turn down the heat to the lowest setting, and cover. Onions should be softened and browned. Add enough boiling water (preferably from a kettle) to soften the onions further, cover and cook for about 10 minutes. The onions should blend into the sauce at this stage.
 5. When all the water has evaporated from the onion paste, add all the spices indicated above for the bhuna massala and cook on high heat for 5 minutes to make sure the spices are cooked through and not still raw and powdery.  
6. Stir in the diced tomatoes, cover and cook on low heat for 5 minutes.
7. Once the massala resembles a thick enough sauce, add the chicken pieces carefully. Allow the chicken to cook in the massala covering the chicken with the massala all the while and turning the pieces over frequently. 10 mins of cooking time is ample. If more hot water is needed, add a little at a time.
8.  Once done, remove from heat and dress with loosely chopped fresh coriander/cilantro.
Recommendations:  Serve with a rice dish of your choice and my bangla style salad. 
Recipe & image by Sabina Huq