Mixed Salad (Bangla style)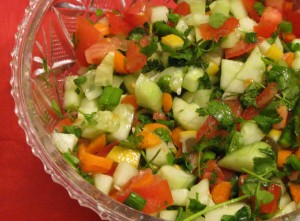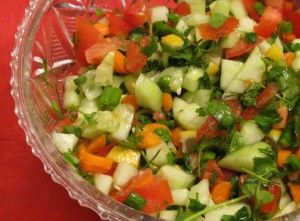 This simple salad goes well with any type of curry or grilled chicken/meat dish but particularly compliments dishes like Bangla Roast or Korma.
Ingredients: (serves 4)
1/2 cucumber
2 large vine tomatoes
1/2 lemon
3 green chillies
A handful of baby carrots
Fresh coriander leaves
1/4 red onion
Salt to taste
How to:
1. Slice the cucumber into small cubes and cut the tomatoes into equal sized pieces. Squeeze out some of the pips so the salad doesn't become too watered down.
2. Finely slice the onion into thin strips.
3. Cut the green chillies into small pieces, or leave whole since some people may not like it spicy.
4. Slice a handful of baby carrots. Not too many, maybe 9 or 10.
5. Slice 1/2 lemon into small pieces. Do not remove the rind.
6. Cut up some fresh coriander leaves.
7. Add all ingredients together and before serving, add a sprinkle of salt for taste.
Recipe & image by Sabina Huq