Delicious White Peach Cake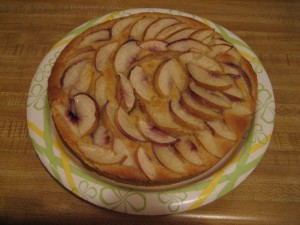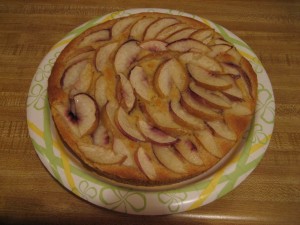 Click image to enlarge
Ingredients:
1 cup all-purpose flour
2 tsp baking powder
¼ tsp salt
½ cup unsalted butter (1 stick) plus enough to butter cake pan or use non-stick baking spray
½ cup brown sugar (can use white sugar if you don't have brown)
2 eggs
1 tsp vanilla extract
1 large white peach OR 2 small ones pitted and sliced into thin wedges.  (You can use almost any fruit that you can slice into wedges e.g. apples, pears, plums, etc. )
1 8" round cake tin
 
How to:
1. Preheat oven to 350 F
2. Butter or spray baking tin.
3. Sift flour, baking powder and salt together.
4. Cream softened butter (zap in microwave for about 10secs if not soft) and sugar in another bowl, mixing till pale and fluffy.
5. Beat eggs in one at a time and add vanilla extract.
6. Gently stir in flour mix till just mixed  Careful not to over mix.
7. Pour batter into prepared cake tin.  Spread out evenly.
8. Place the wedges of fruit on the cake starting at the edge going around in a circle continuing towards the centre till whole cake is covered. (Fruit may get disturbed while cake is rising giving it a more rustic and homemade look)!
9. Bake for 40mins or until toothpick comes out clean from centre of cake. 
10. Cool for 15 mins turn out and then turn out again (so fruit is on top) onto serving plate.  If the cake looks like it is sticking run a knife around the edges before turning over.
Cut cake and serve!!
 
Recommendations:  Serve with afternoon tea or coffee  or as a dessert with a scoop of vanilla ice-cream on the side. Enjoy!
 
Recipe & Image submitted by Afroza Haque