Gulab Jamun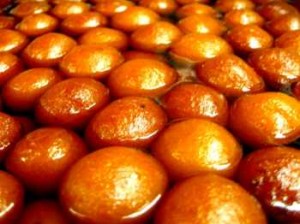 Ingredients: (makes 20)
Gulab Jamun:
1 cup non fat milk powder
1/4 cup all purpose flour
3 Tablespoons butter, at room temperature
1/4 cup milk, at room temperature
1 tsp baking soda
Syrup: 1 3/4 c sugar, 1 1/2 c water, 4 coarsely ground cardamom seeds
Garnish: 1 T sliced almonds/pistachios (optional)
Oil for deep frying
How to:
1. Make the syrup by combining the water, sugar and ground cardamoms in a large saucepan.
2. Bring the mixture to a boil and allow to boil for 1 minute, then remove from heat. Stir the syrup to ensure that all of the sugar is dissolved. Set aside.
3. Make the gulab jamuns by mixing together the milk powder, flour and baking soda in a medium sized bowl.
4. Add the butter and rub into the milk powder mix until the mixture resembles fine breadcrumbs.
5. Add the milk and form into a soft, but sticky dough. Allow to sit for a minute or two.
6. If the dough is dry, add more milk – it should be soft and slightly sticky.
7. With greased hands, divide the dough into 20 equal sized portions and roll into round balls.
8. Heat some oil in a frying pan on medium heat. The oil in the pan should be at least 1.5 inches deep.
Note: To test if the oil is at the right temperature, place a small piece of dough into the oil – it should take about a minute to rise. If the dough rises faster, the oil is too hot. If the dough sits without rising, the oil is too cold.
9. Fry the gulab jamuns for about 7 minutes or until dark brown, rolling them constantly in the oil to ensure that they are evenly browned.
10. Let the gulab jamuns cool off for a few minutes before placing them into the syrup. They should sit in the syrup for at least 20 minutes before serving. Garnish with almonds/pistachios and serve.
Gulab Jamuns can be kept at room temperature for about a week and up to 1 month when refrigerated.
Additional Tips:
– If the gulab jamuns are fried in excessively hot oil they will become hard inside and not fully cooked.
– Excessive baking soda will cause the gulab jamun to fall apart when frying.
– Do not place the gulab jamun whilst hot out of the oil – this will cause them to lose their shape and become chewy.
– As an alternative, you can make smaller gulab jamuns, take them out of the syrup and roll them in unsweetened coconut powder/ground almonds.
Enjoy!
Recipe submitted by Linda Lai