Egg Pudding
 Loved by all, this is one dessert you'll want to try!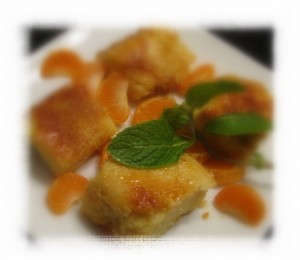 Click image to enlarge
Preparation time: 5 minutes.  Bake time:  30 minutes
Oven Temperature: 350 degrees
Ingredients: (Serves 6-9)
6 eggs
2 small cans condensed milk
4 and half tablespoons sugar
1 tablespoon oil
How to:
1. First make the caramel: Heat up one level tablespoon of oil in a pan and add 1/2 tablespoon of sugar. Stir until browned.
2.  In a square or round pirex oven proof dish (approximately 8×8 size dish), spread out the caramel on the bottom of the dish using a wooden spoon.
3. In a bowl, mix 6 eggs, 2 small cans of condensed milk and 4 level tablespoons of sugar.
4. Whisk until smooth.
5. Pour the mixture into the dish and bake for 30 mins on 350 degrees.
6. Once the dessert has cooled down, place in fridge.
7. To cut: If using a square dish, you can easily get 9 squares out of it, or if using a round dish, 6 pieces.
8. When serving, flip the dessert over so the caramel side lies on the top.
How easy was that!
Recipe Submitted by Syeda Mansura Banu
Image by Sabina Huq