Custard Cake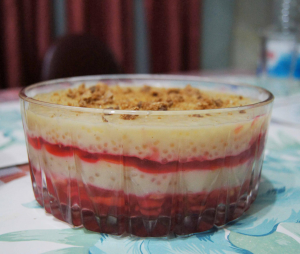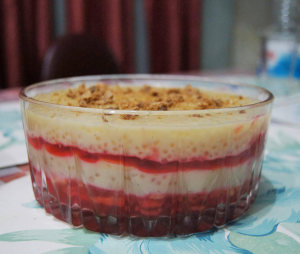 Click on image to enlarge
Ingredients:
Milk 5 cups
Cornflour 4 tablespoons
Pearl Sago
1/2 cup sugar
1/2 cup Rose water
2 teaspoons Apple finely chopped
2 cups Strawberry flavour jelly
1 packet chocolate biscuit crumbs 1/5 cup
How to:
1. Prepare the strawberry jelly as directed on the packet.
2. In the bottom of a serving dish, arrange 1 cup chopped apple and pour the hot jelly over them. Let it set.
3. Prepare the custard together with the milk, cornflour, sugar and Pearl sago and heat till it boils. Boil till consistency is thick.
4. When the jelly is set, pour half the custard over the jelly and keep it in cool temperature for a while.
5. Coat the custard with apple again and make a level layer.
6. Repeat this once again.
7. Finally, when the custard layer is set spread the biscuit crumbs on top of it.
Recipe & image submitted by Momtaj Anar Monni