Lentil Pakoras (aka Dayler Bora/Daal-er Bora/Piaju)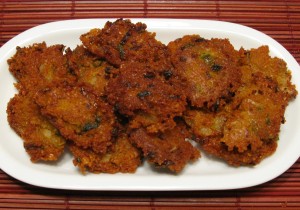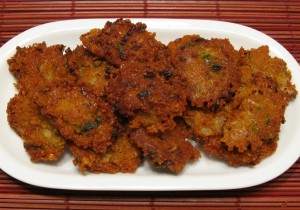 Ingredients:
Red lentil (10 tablespoons), Fresh Ginger (2 inch piece), 1 medium sized onion, 2-3 Green chillies, ½ tsp Salt
How to:
1. Soak red lentils for about ½ an hour in hot water (makes them softer to blend)
2. Wash lentils, then drain in a seive for 5-10 minutes before placing in the blender
3. Add finely chopped fresh ginger and blend until you have a paste. The consistency should be so that it's not runny and you can push the paste off a spoon with another spoon when you fry them. If you need to add water, add one tablespoon to start.
4. Pour paste from blender into a mixing bowl
5. Finely chop up the onion and green chillies. Add to bowl with paste and add ½ tsp salt. Mix all the ingredients up and be ready to fry them
7. Using a teaspoon, place the mixture in very hot oil. You will need another spoon to push them into oil and flatten them into shape. Don't put too many into the oil at once
8. Poke with a fork to make sure they are cooked through; if fork is not clear when u pull it out then they need to be in the oil a little longer.
8. Fry until golden brown
9. Place on dish lined with kitchen paper to drain any excess oil. Remove paper when serving.
10. Serve hot and enjoy!
Tip:  You can add a teaspoon or 2 of gram flour if you notice the paste is too runny but they taste better without since they're more crunchy.
This appetizer is very popular during Ramadan and is often served with Kichuri (refer to the rice and bread section).
Recipe by Piano Ahmed / Image by Sabina Huq