Naan Bread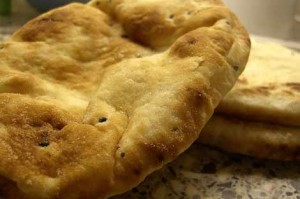 Ingredients:  (Serves 4-6)
2 cups all purpose flour
1 tsp active dry yeast
1 tsp salt
1 tsp sugar
2 tablespoon oil/melted butter
2 and 1/2 tablespoons of low fat natural yogurt
3/4 cup lukewarm water
Chopped coriander leaves to garnish
How to:
1. Mix the water with the yeast and sugar and allow to stand for 5 minutes.
2. Sift the flour and salt together into a stand mixer bowl, then add the yeast mixture, half of the butter and yoghurt.
3. Switch the stand mixer on with the dough hook and blend the dough. Then knead for 5 minutes on low-medium speed until the dough is smooth and elastic.
4. Cover and allow to rise until double its size or do an overnight cold rise.
5. Punch the dough down and knead for 5 minutes, divide the dough into 4-6 equal sized balls.
6. Roll the dough into naan shaped bread (tear shaped), making them relatively thin.
7. Brush a large saucepan with oil and wipe with a kitchen towel. Heat to a medium heat and place the dough onto it, wait until it unevenly puffs up (about 3-4 minutes).
8. Brush some melted butter on 5-6 random spots, turn it over and cook for another 2-3 minutes until the spots are browned.
9. Quickly transfer to a clean kitchen towel and keep it warmed.
10. Serve hot, brushed with additional butter (if desired) and sprinkled with coriander leaves for decoration. Enjoy!