Moshla Kichuri (Aka Spiced Lentil Rice)
Try this Kichuri with a kick!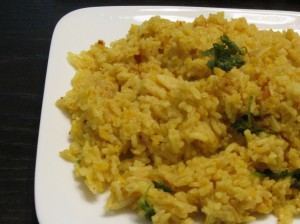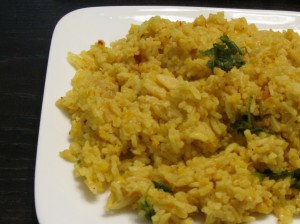 Ingredients: (Serves 6-8)
2 cups white basmati rice
1 cup red lentils (moshuri daal)
1/2 medium onion (chopped)
1 tbsp garlic & ginger paste (or 1 tsp each if bought separately)
Spices:  1/2 tsp turmeric, 1 level tsp salt (or to taste), 1 tsp cumin powder, 1/2 tsp curry powder, 1/2 tsp cinnamon powder, 1/2 tsp crushed chilli peppers.
2 fresh green chillies
A handful of fresh chopped coriander (cilantro) leaves
2 tbsp cooking oil
How to:
1. Wash and drain the rice and lentils and allow to sit for a while (10 minutes or so) to dry off.
2. In a non-stick pan, fry the chopped onion in 2 tbsp oil until almost brown.
3. Add the lentils and rice and fry well for 4-5 minutes.
4. Add all spices as indicated above with the exception of the chillies and coriander leaves. Fry well on medium to high heat for 5-7 minutes.
5. Add 16-20 ounces of hot water, preferably from the kettle and cook on medium heat for at least 15 minutes until all the water evaporates.  Once the water has evaporated, lower the heat to a low simmer and put the lid on.
6. Chop up a handful of fresh coriander leaves and slit two green chillies through the middle. Add to the kichuri and replace lid. Cook for a further 5-7 minutes and then remove from heat.
Serve hot and enjoy!
Recipe submitted by Piano Ahmed. Image by Sabina Huq