Liver Bhuna
For this dish I used chicken liver but you can use beef liver if you prefer. Its easy to make and can be eaten with rice, bread or even toast!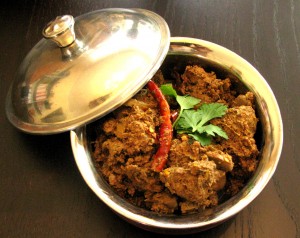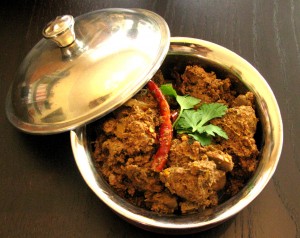 Click image to enlarge
Ingredients: (Serves 6)
2 lbs chicken liver
1 white or yellow onion thinly sliced
4 whole dried red chillies and 1/2 tsp crushed red chillies
A handful of fresh coriander leaves
4 cloves of garlic and 1 inch piece of ginger (crushed or blended)
1 ripe tomato
3 tablespoons of olive or canola oil
Spices: 1 tsp of cumin powder, 1 tsp of chilli powder, 1 tsp coriander powder, 1/2 tsp of turmeric, 1/2 tsp of curry powder, 1 tsp of salt.
Note:  Alternatively, you can use "Shan Liver Curry" spice mix found in almost all Desi stores.
How to:
1. Wash the chicken liver really well and cut into small cubes if not pre-cut. Drain well.
2. In a bowl, mix the liver and all spices indicated above along with the salt and crushed chilli peppers. Mix well.
3. Using a saute pan, heat up 2 tablespoons of oil on a high heat and add the liver. Saute until 1/3 cooked and set aside.
4. In another pan, heat up 1 tablespoon of oil and add 1 thinly sliced onion. Fry for a minute or two until almost brown and then add the crushed or blended garlic and ginger.  Fry for a further minute and then add the whole red chilli peppers.
5. Cut and add the tomato and fry for a further minute until the onion has softened. You can add a sprinkling of salt at this point.
6. Add the liver and lower the heat to medium to allow the liver to cook thoroughly, about 10-12 minutes. No need to cover as you want the liver to dry up a fair bit since this is a bhuna (dry massala) dish.
7. Once done and the liver has dried up, add a handful of fresh coriander leaves and remove from heat.
Recommendations: Best served with almost any type of bread or rice of your choice. Kichuri goes really well with it.
Recipe & image by Sabina Huq