Khalisah's Chicken Spinach Curry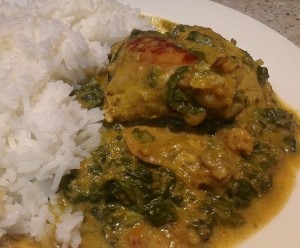 Recipe & image by Khalisah Khalousy Eves, Dubai
Ingredients:
Approx. half a cup of spinach (I use frozen spinach cubes that adds up to about half a cup).
500g skinless chicken thighs (with bone).
3 tbsp olive oil 1 onion (diced) 1/2 tomato (diced)
1 tsp garlic paste
1 tsp ginger paste
2 tbsp sour cream
1 tbsp butter
1/4 cup milk
1/4 cup water
1/4 cup of chopped green beans (optional)
Masala:
1/2 tsp chilli powder
1/2 tsp turmeric
1/2 tsp ground coriander
2 cardamom pods
1/2 tsp salt
1/2 tsp pepper
1 tsp garam masala
How to:
1) Fry onions, garlic and ginger with the tomato on high heat for 5mins before adding the chicken, then fry until chicken is half-cooked.
2) Mix the masala in a bit of hot water, then pour it over the chicken. Keep frying for another 5-10mins
3) Add the milk and the rest of the water; simmer for 10-15mins.
4) Add the spinach (by now the chicken should be done but I like to let it simmer with the spinach) simmer on medium-to-low heat for another 10mins.
5) once chicken is tender and cooked through and the spinach has mixed in with the sauce, turn off the heat and add the sour cream and butter. Mix well and serve immediately with rice (I like Jasmine rice).