Easy Baked Chicken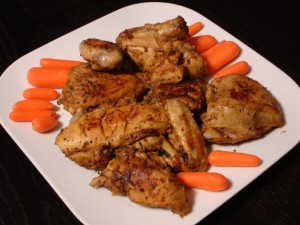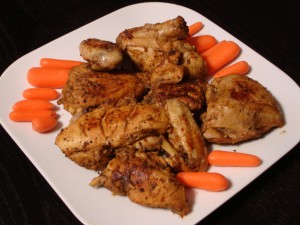 Click image to enlarge
Ingredients: Serves 6
12 pieces of chicken breast, thigh piece, drumsticks or chicken wings
1 small pot low fat yogurt (Optional. See recommendations below).
1 tablespoon olive oil
2-3 tablespoons of lemon juice
2 tsp fresh crushed or blended ginger (about 1 inch piece)
1 tablespoon (3 cloves)  fresh crushed or blended garlic
1/2 tsp salt (or to taste), 1/2 crushed black pepper
1/2 tsp crushed red chillies
1 tsp coriander powder
(Optional) 3/4 tsp chaat massala (found in most indian stores), and chillies for decoration.
How to:
1. Wash, cut and clean the chicken and allow to dry or pat dry.
2. In a bowl mix all the ingredients together and rub well over the chicken. Marinate in the fridge for 30 minutes at the least, otherwise for 2 hours if you have more time.
3. Line a baking tray with foil, place chicken on foil and allow to bake for 40-45 minutes on 350 degrees.
Recommendations:  Serve with a healthy portion of salad and/or couscous or spicy home fries.  If you are lactose intolerant, this dish can be made without the yogurt. Try it with leg pieces instead of breast meat so it's less dry since you're not using yogurt.  I've served it with my Spinach & Apple salad.
 Recipe submitted by Humaira Mian.
Image by Sabina Huq