Beef Curry with Potatoes (Pressure Cooker Method)
For best results, make this dish in a pressure cooker. It'll be cooked in half the amount of time and the beef will be nice and soft.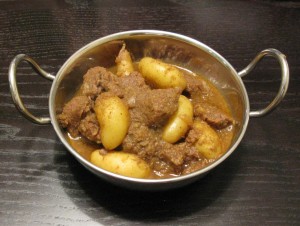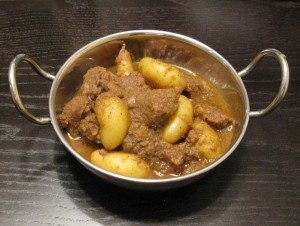 Ingredients: Serves 6
2 lbs beef (cut into medium sized cubes)
2 large potatoes or 12 fingerling potatoes
3 Onions, 2 inch piece of ginger, 6 garlic cloves
Fresh coriander leaves (optional)
Spices: 1 cardamom, 2 cinammon sticks, 2 bay leaves, 1 and half tsp chilli powder, 1 tsp cumin, 1 tsp coriander powder, 3/4 tsp turmeric, and 1 and 1/2 level tsps salt.
How to: (Pressure Cooker Method)
1. Prepare the beef by thoroughly washing it and then cut into medium sized cubes.
2. In a pressure cooker, add the following ingredients: beef, 3 chopped onions, finely grated ginger, diced garlic, 2 teaspoons of salt, 1 cardamom, 2 cinnamon sticks, and 2 bay leaves.
3. Add 1 full glass of water and close the lid. On high heat, allow the ingredients to cook for about 7-8 minutes. (If you have one of those pressure cookers that has a separate key or top to stop the hissing, place on top when you hear it start to hiss. This indicates that the temperature is right for cooking).
4. Cook for a further 15-17 minutes. The pressure cooker will then let you know when the meat is ready by making a screeching sound. Remove from heat and go over to the sink. Run cold tap water over the pressure cooker until it stops steaming, Wipe and return to stove. You are now done with the lid.
5. Reduce heat to a medium heat and check that the meat is almost ready. The texture should be tender, almost ready to eat but not quite, and should not shred apart in your fingers.
6. If the meat is almost ready as described above, add the following: 1 and 1/2 tsp chilli powder (less if you want it less hot), 1 tsp cumin powder, 1 tsp coriander powder, and 3/4 tsp turmeric.
7.  Add 1/2 glass of water and simmer without the lid for 10-12 minutes. While simmering, prepare the potatoes. (If using fingerling potatoes, you just need to wash them. Leave the skin on). Note: I prefer to use fingerling potatoes as they cook a lot quicker.
8. Peel, wash and cut 2 large potatoes. Each potato should be cut into 6 pieces. Continue to simmer (again, without the lid) and add 1/2 glass of water and simmer for another 10 minutes.
9. Optional – add sprinkled fresh coriander leaves over the top when serving.
Recommendations:  Serve with hot rice of your choice, naan, chapatti, or pita bread.
Recipe submitted by Kamila Rahman. Image by Sabina Huq