Saag Paneer (Spinach with cheese)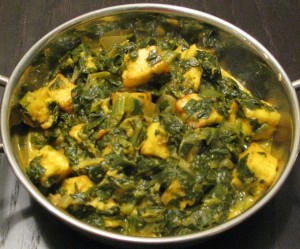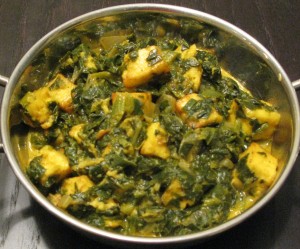 Ingredients:
A bag of fresh spinach 
1/2 tsp cumin powder, ½ tsp coriander powder, ¼ – ½ tsp chilli powder, ¼ tsp turmeric, ½  tsp of salt or to taste
4 cloves of garlic
½ white onion
1 packet of frozen paneer (cheese found in most Indian stores)
Vegetable, canola, or sunflower oil.
How to:
1. Dice the onion and fry in a tablespoon of oil.
2. Finely dice up 4 cloves of garlic and fry until brown
3. Add the spices as above along with the salt
4. Add a little bit of water (1/2 cup) to make a smooth paste/massala
5. Add in the packet of paneer and coat in the massala. Cook for about 5 minutes and then add in the spinach.
6. Cook for 10 minutes until the cheese and spinach are thoroughly cooked. You don't want to overcook the cheese because it will fall apart. Note: The texture of the dish should be dry and not watery.
Recommendations:  Best served with naan or chapatti. Basmati rice works well too!
 Recipe & Image by Sabina Huq