Kerela Bhaji (Bitter Gourd)
This dish is super easy to make and for some reason, is a hit with the oldies! Can't say I've ever liked it due to the bitter taste of the vegetable, but if this is your thing, give it a shot!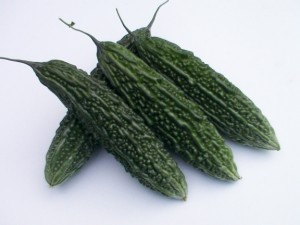 Ingredients:
4 kerela pieces                   
1/2 onion
1/2 tsp of salt, 1/2 tsp of turmeric, pinch of cumin seeds
A touch of oil
How to: 
1. Wash and slice the kerela into thin slices. Dry off in a seive.
2. Fry a pinch of the cumin seeds in hot oil making sure you don't burn them too much.
3. Slice the onion into thin slices and add to the cumin seeds.
4. Add the kerela and cook on high heat for about 4-5 minutes stirring now and then.
5. Put the lid on and cook on low heat for about 10-12 minutes until done.
Recommendations: Goes well with basmati or brown rice.
Recipe by Sabina Huq