Derosh Bhaji (pan-fried okra)
Yet another super quick dish and so yummy!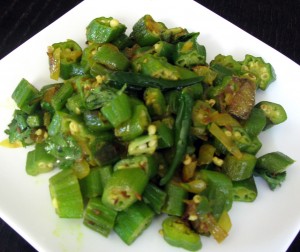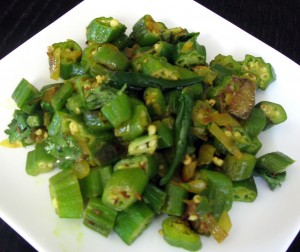 Click image to enlarge 
Ingredients: (serves 2-4)
1lb of okra (or about 20 pieces)
1/2 medium sized onion
1/2 tsp of salt, 1/2 tsp of turmeric, 1 level tsp of fresh cumin seeds
1 tablespoon of oil
2 green chilies (slit sideways)
How to: 
1. Wash and dry the okra thoroughly and then slice off the tops.  Slice each okra into about 10 slices.
2. Slice the onion into thin strips and fry for about 3 minutes in one tablespoon of hot oil until they become brown.
3. Add 1 level tsp of fresh cumin seeds and fry for 30 seconds.
4. Add the turmeric and salt to the onion and cook for 1 minute on medium heat.  
5. Add the okra and stir in the flavors. Fry for 3-4 minutes until slightly brown. Add the green chilies, slit sideways. Lower the heat and allow to cook making sure the okra doesn't become too mushy. Don't cover with a lid and don't stir too much. Cook for about 7-10 minutes.  
Recommendations: Goes great with white or brown basmati rice and is delicious with daal (lentil curry).
Recipe & image by Sabina Huq