Cauliflower & Chickpea (Garbanzo Bean) Curry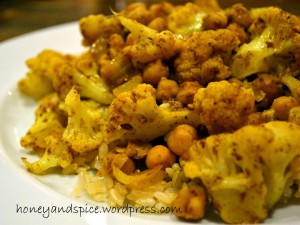 Click image to enlarge 
"This is a delicious and quick curry, which is easy to make, vegan-friendly and tastes fantastic. It uses the cheat ingredient of pre-made concentrated curry paste. I've grown up with Patak's, so I'm delighted that they sell it in the US. I have a variety of Patak's curry pastes. On this occasion, I used the biryani (cilantro and cumin) paste. If you use a different brand, you may need to adjust the amounts to get the flavor right." – Linda Lai  
Ingredients (Serves 3, cook time: under 30 mins).
1 teaspoon oil
1 small onion, diced
2-3 cloves garlic, crushed
50 g (3 tablespoons and 1 teaspoon) Patak's curry paste of your choice
1 tablespoon tomato puree (optional)
500 ml (2 c and 4 teaspoons) boiling water and more as needed
1 teaspoon better than bouillon* vegetable stock
1 medium head cauliflower, cut into florets
1 (400-425 g, 14-15 oz) tin (can) chickpeas (garbanzo beans), rinsed and drained
Cooked rice for serving
* Better than bouillon is a concentrated paste, which you add water to, to make a stock. If this is not available, use stock cubes or ready-made unsalted stock instead of water in step 4.
How to:
1. Heat the oil in a large, non-stick frying pan over medium heat.
2. Sauté onion and garlic until aromatic, about 4-5 minutes.
3. Add curry paste, tomato puree and stock paste. Stir for 1-2 minutes.
4. Add boiling hot water and stir until everything is evenly incorporated.
5. Stir in cauliflower and chickpeas (garbanzo beans), making sure every piece of cauliflower has a coating of curry sauce.
6. Cover and simmer for 15 minutes, or until everything is tender, stirring from time to time. If the pan gets too dry, add a splash of boiling water, but do not add too much.
7. The curry should be relatively dry at this stage. If not, remove the lid and cook until any excess moisture boils off.
Recommendations:  Serve with rice and/or naan bread. (Tastes great with brown rice)!
Recipe & image submitted by Linda Lai.
Please click on Linda's name (above) to view her fabulous website!