Cauliflower, Broccoli & Spinach Bhaji
You can pretty much make a bhaji with any type of veggies you want. All you need to do is follow the same method and use roughly the same spices. Here's another super easy bhaji that can be made in 20 minutes or less!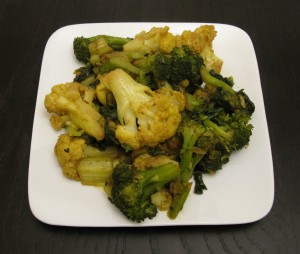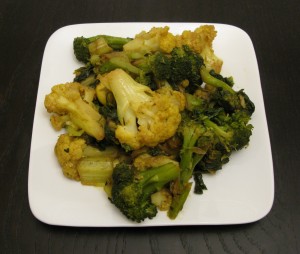 Click to enlarge image
Ingredients: Serves 4-6
1 cauliflower (cut roughly)
1 broccoli (cut into florets)
1 packet/1 lb fresh spinach
1 onion (roughly sliced lengthways)
3-4 cloves of garlic (kept whole)
Spices: 1 level tsp of fresh cumin seeds, 1/2 tsp of salt or to taste, 1/2 tsp of turmeric, 1 level tsp coriander powder.
2 tablespoons of cooking oil
How to: 
1. Wash and cut all vegetables.
2. Roughly slice the onion into thin strips and set aside.
3. In hot oil, fry one level tsp of fresh cumin seeds until they turn brown. Do not over fry as you will lose the flavor when burnt.
4. Add the whole garlic cloves and allow to fry for about a minute.
5.  Add the onion and fry for about 2 minutes until they become brown.
6.  Add the turmeric, coriander and salt to the onion and cook for a couple of minutes on medium heat.  
7. Next, add the cauliflower and allow to cook until 60% cooked (about 8-10 mins). Cover with lid.
8.  Add the spinach and cook for a further 2 minutes.
9.  Now add the broccoli and cook for 5 minutes. The vegetables should remain crunchy and not soft (unless you like it that way). And that's really it!
Recommendations:  Serve with hot rice of your choice or with chapatti, naan bread, or pita bread. Also goes really well with Daal (lentil curry).
Recipe & image by Sabina Huq